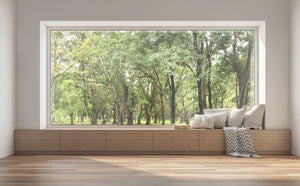 Where yesterday's recycled waste becomes tomorrow's purposeful products.  
HOW WE DO WHAT WE DO:
For over 30 years, our family of in-house recycling, sustainability, and circular economy companies have proudly recycled over 950,000,000 pounds of plastic waste and other recyclable materials.
We recycle millions of pounds of plastic water & soda bottles that we transform into high performance fiber and yarn to make remarkably durable, stylish, and colorful indoor and outdoor fabrics. In addition to plastic bottles, we collect & recycle millions of pounds of plastic films, bags, and wraps that we wash, clean, melt, and purify into sustainable raw material pellets. These pellets then get molded and extruded into plastic boards and sheets that are used as the raw material for our artistically designed new furniture, fixtures, fencing, and other products. 
WHAT MAKES US DIFFERENT:
APEX creates products, conversations and circular economies. APEX proudly manufactures and supplies a variety of sustainable Furniture, Furnishings, Fabrics, Flooring, Floral, Fixtures, & Fencing, all made in the USA, from recycled and sustainable materials.
We encourage our customers to start ECO CONVERSATIONS that inspire change. All APEX in-house sustainable products proudly showcase custom curated QR code "journey of recycling" videos we create, that showcase the entire recycling & circular economy process of how APEX recycles waste materials back into our sustainable furniture and furnishing products.
APEX, in partnership with out sister companies, uniquely qualified to offer and manage a CIRCULAR ECONOMY recycling supply chain for its customers. The Circular process begins with waste collection then on to sorting, conversion to raw materials, manufacturing, and finally delivering finished products. APEX and its partners have built this fully guaranteed, traceable and transparent recycling circular ecosystem for some of the largest retailers in the country.
Who do we serve:
Our products are made for everyone that cares about our environment. We focus our designs and sustainability programs on our family of companies' key markets that include Parks & Recreation, Municipal, Events, Campus, Retail Store, Corporate Office, Amusement Parks, Hotels, Govt & Military, and Home.
Thank you for considering APEX Sustainable Furnishings. We look forward to working with you and building a greener future together.